A balanced Miami Heat team came into Game 1 of the Eastern Conference finals with the No. 4 offense and No. 4 defense in the postseason. In the final 12 seconds of an overtime thriller on Tuesday, they executed two phenomenal, game-winning plays: One an offensive gem by their closer Jimmy Butler, the other a nasty block by their All-Defense big man, Bam Adebayo.
Headed into the series, Butler said, "We're not underdogs." If the bubble has produced one truth, it's that the NBA has no underdogs in September. Tuesday's 117-114 Heat win over the Boston Celtics underscored that.
Butler's heroics are almost routine, and in Game 1, they started in the final minute of regulation. For the first 47 minutes, Butler was a solid producer, if unexceptional by his standards. But with 25 seconds remaining in the fourth quarter and the Heat trailing by two points, the ball found Butler in the right corner after a broken play descended into a frenetic scramble.
1 Related
Against a tight close-out by Celtics guard Kemba Walker, Butler pump-faked and — after Walker flew by — released an off-balance 3-pointer to put the Heat up one. The Celtics negated that would-be game-winner by sending it into overtime courtesy of a single foul shot after Marcus Smart drew a foul before the inbounds.
Butler's actual game-winner came almost exactly five minutes later when he drew a tough matchup at the top of the floor, Celtics forward Jayson Tatum, with the Heat trailing by one. Butler's ability as a non-elite shooter from long range (24.4% in the regular season) to leverage his timing and strength to beat a long, elite defender like Tatum to the rim and finish is uncanny. While he's not a star who feels compelled to take over every facet of the game for 42 minutes, Butler thrives late with the focus and intensity of a ninth-inning stopper.
"I think that's my job to help us win games at any point in time, but definitely in the fourth, definitely in overtime," Butler told ESPN's Malika Andrews. "My teammates, my coaches, this organization [has] a lot of faith in me so I try to pull through as often as I can."
As for the defensive exploits of Adebayo, those skills composed the other game-winning play. The third-year center is a quintessential Heat product — smart, skilled and tireless. With Tatum screaming down the lane, hammer raised for an easy flying dunk, Adebayo met the Celtics' young superstar at the rim with his extended left arm — all ball against one of the league's most dangerous drivers. He preserved the Heat's two-point lead before draining one of two free throws to ice the win.
"That's championship-style defense," Heat forward Jae Crowder said. "That's stuff we'll look back in 10, 15 years from now and watch that play. That was an amazing play … Bam came over and made a heck of a block."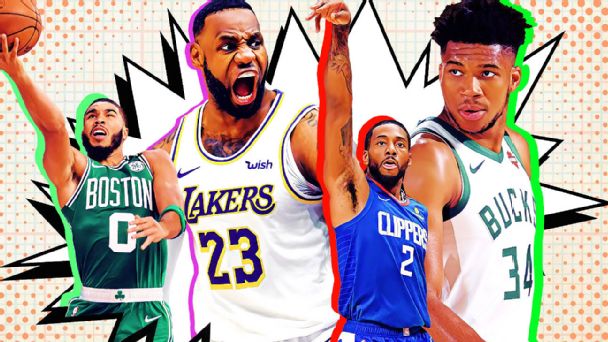 The NBA playoffs have advanced to the Eastern Conference finals at ESPN's Wide World of Sports Complex.
• Lowe previews Nuggets-Clips Game 7
• Goldsberry: Tatum is a superstar now
• Why Heat-Celtics won't let us down
• Pelton: Why Giannis isn't a playoff MVP
Both Boston and Miami showed flashes of their best selves in this improbable 3-vs.-5 conference finals matchup. The conditions were perfectly aligned for such a showdown: A disruptive four-month hiatus, a hermetically-sealed bubble where players were thrown off their routines, no home-court advantage for the top seeds.
Yet, the Celtics and Heat didn't advance to the Eastern Conference finals because of the vagaries of the 2020 NBA season. They're here because they play a disciplined brand of defense, maximize their versatility and make smart adjustments on the fly. And in Game 1, they delivered an overtime cliffhanger.
There were some highlights for Boston, including another unconscious — and characteristically unconscionable — shooting performance from guard Marcus Smart. He nailed 6-for-13 from beyond the arc and finished with 26 points. That offense was essential because Smart's counterpart in the backcourt, Walker, struggled mightily, apart from a big step-back jumper in the final minute of overtime that, if not for Miami's clutch plays, could have been Boston's game-winner.
"I'm just playing terrible, to be honest," Walker said. "Not much I can say but I have to be better. I have to do better for this team on both ends of the floor, have to make better decisions, just have to make shots overall."
Miami's gutsy play demonstrated particular resilience on Tuesday night, because the Heat couldn't get anything to go early, turning in their worst-shooting quarter in the postseason in the first. They missed at point-blank range and couldn't find any daylight against the Celtics' tireless half-court defense. The defense was characteristically alert, but nothing the Heat did in the first 12 minutes allowed them to create a rhythm.
Basketball is a funny game, and following their first-quarter brickfest, the Heat put together their best shooting quarter of the playoff in the second. It was a vintage Heat 12-minute performance. Most paint points in the NBA are achieved through drives and, decreasingly, post-ups. The Heat do one better: They never stop moving in the half-court, and consistently found offense on Tuesday night sneaking behind the Celtics' stifling perimeter defense with crafty cuts.
Off-ball movement usually produces winning basketball, but it requires facilitators to execute the action. Enter Adebayo, the fulcrum of the Heat's offense. The big man sets up shop from his perch at the high post — or even at the top of the floor with the high-low game — and finds those cutters with ease, which was the case in Game 1.
Miami's defense, middling in the regular season, sharpens with each series. In Game 1, they mixed up their pitches — man-to-man, their switching scheme and a fair amount of zone. At one point early in the third quarter, the Heat's zone so flummoxed the Celtics, Boston called a timeout mid-possession, with lots of cross-talk as they walked to the bench. Out of that timeout, the Celtics set up a clean look for Walker, but the ball clanked off the left side.
The Celtics will undoubtedly need more from Walker, and there's no good reason a unit that features such lethal attackers should get pummeled in the paint by Miami. But the Heat are unassuming that way. From 1 through 10, they understand their roles and rarely work outside their skill set. That self-awareness — and a knack for timely playmaking — has vaulted a team that finished in the middle of the East's playoff pack to the doorstep of the NBA Finals.