OWINGS MILLS, Md. — Lamar Jackson and the Baltimore Ravens offense seized the national spotlight by setting numerous team and NFL records, from scoring 531 points to rushing for 3,296 yards.
The Baltimore defense, meanwhile, set a new mark that went unnoticed, but speaks volumes about what the offseason focus should be for this Super Bowl contender. This past season was the first time the Ravens played an entire season without a first-round pick in their defensive front seven.
The days of Ray Lewis, Terrell Suggs and Haloti Ngata have given way to cheaper and later-round versions. So, with $30 million in cap space and a projected nine draft picks, the Ravens know they have to restock the defense in the same way they assembled the NFL's highest-scoring offense.
"That's really something that's going to be a target for us," coach John Harbaugh said. "The front seven, specific positions and skill sets within the front seven, are going to be really critical."
The Ravens allowed the fewest points (15.1) and yards (268.9) during their season-ending 12-game win streak, which was the result of defensive coordinator Don "Wink" Martindale and his staff getting the most out of their players.
In the last five years, only one of Baltimore's six first-round picks has been used on a defensive player (cornerback Marlon Humphrey). In free agency, the Ravens re-signed defensive tackle Brandon Williams to a five-year, $52.5 million deal in 2017, but the last front-seven defensive player from another team to get over $10 million in guaranteed money from Baltimore was pass-rusher Elvis Dumervil in 2013. The Ravens' focus has been building an explosive offense and a talent-laden secondary.
Safety Chuck Clark's three-year extension means four of Baltimore's top players in the defensive backfield have received new deals from the team over past two offseasons: cornerback Marcus Peters, nickelback Tavon Young, safety Earl Thomas III and Clark. (Humphrey just became eligible for an extension this year.)
This offseason, Baltimore has to devote some resources to adding pass-rushers (on the edge and interior) as well as a middle linebacker.
Edge rusher: The Ravens' probably don't have the cap room to pursue Jacksonville's Yannick Ngakoue (projected $17.1 million per year by Spotrac) or Tampa Bay's Shaquil Barrett ($15.7 million). There are less expensive options — Dallas' Robert Quinn ($11.8 million), Buffalo's Shaq Lawson ($7.6 million) and Atlanta's Vic Beasley ($7.3 million) — but Baltimore has more of a history of signing veterans in their 30s who are cap cuts (because that doesn't count against compensatory picks). That could make either Jacksonville's Calais Campbell (39.5 sacks over last four seasons) or Washington's Ryan Kerrigan (42.5 sacks since 2016) a top target for the Ravens. Both could be released over their high cap numbers.
In the NFL draft, the Ravens would love for Iowa's A.J. Epenesa to fall to them at No. 28 overall, but that doesn't seem likely to happen right now.
Interior rushers: Baltimore didn't get enough pressure up the middle from Williams (one sack, five QB hits), Michael Pierce (one-half sack, three hits) and Jihad Ward (one sack, four hits). The Ravens attempted to address this last year when they tried to sign Gerald McCoy, who instead went to Carolina. With McCoy a free agent again, could team officials lure him to Baltimore this time?
Other potential fits include Denver's Derek Wolfe and the Los Angeles Rams' Michael Brockers. In the draft, Baltimore might consider Oklahoma defensive tackle Neville Gallimore at the bottom of the first round.
Middle linebackers: The prevailing feeling is Baltimore will fill the void here through the draft. The popular pick in current mock drafts is Kenneth Murray, whose nonstop motor would make him a great fit in this defense. He would also continue the Oklahoma to Baltimore pipeline. The Ravens have a strong history when drafting middle linebackers in the first round. The two selected in the first round by the Ravens — Lewis and C.J. Mosley — have combined for 17 Pro Bowls. After Patrick Onwuasor failed to replace Mosley, Baltimore understands this position can't be filled by just anyone.
It's not that the Ravens have ignored the defense. Baltimore put the hard sell on McCoy last year and tried to get edge rushers like Clay Matthews and Justin Houston. The Ravens would've jumped at the chance of drafting Brian Burns if he fell to them at No. 22 overall (Burns went to Carolina six picks earlier).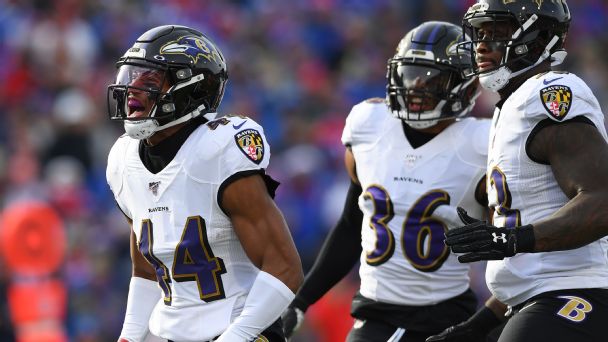 • Time for Ravens to spend on defense
• Mathieu, Clark made Chiefs' D believe
• Bills should extend Tre'Davious White
• Important time for Newton evaluation
• How was Flores leaped for HOF?
This forced the Ravens to get creative, shifting Clark to inside linebacker at times. But they have to improve upon a front seven that showed some cracks. Baltimore allowed 4.39 yards per carry (21st in the NFL) and produced nine sacks with a four-man rush (last in the league). This is why the Ravens blitzed more than any team in the NFL.
For over two decades, the Ravens' identity has been based on defense. Baltimore took pride in shutting down offenses, no matter the personnel. Much of the Ravens' success on defense came from the investment placed in it. It's time for Baltimore to boost the defense beyond the secondary.
"We know with our scheme and the way that we get attacked, we know the kind of player that we want," Harbaugh said of the defensive front seven. "So it'll narrow the focus even more, both in free agency and the draft, and we'll try to get two or three guys, maybe four."