DESIREE CASTILLO COULDN'T speak. She listened to her doctor's question, fell to the floor and just lay there, stunned.
It was November of 2018. Only a few weeks had passed since Desiree, then 11, had returned home from Doernbecher Children's Hospital in Portland, Oregon. Life was far from returning to normal. Her parents had locked up the chemicals, medicines and sharp objects in their Hillsboro home. They demanded she sleep with the bedroom door open. They used a baby monitor to track her every move.
But the doctor on the other end of the phone had an exciting invitation: He wanted Desiree to participate in the 2019 Doerbecher Freestyle program, in which patients are selected to design Nikes that are auctioned off and later sold to the public in a limited run. The kids also help design backpacks, jackets, hoodies and other apparel. But her parents wanted no part.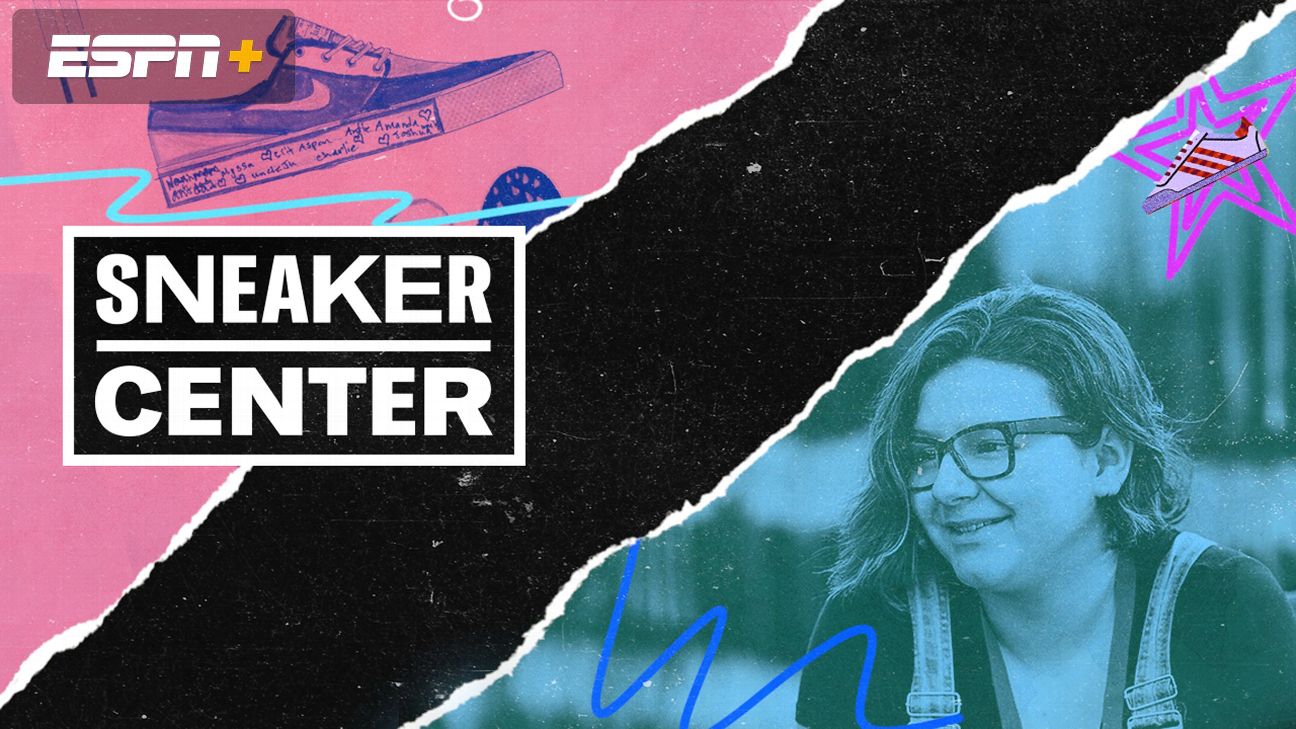 Wayne Drehs visits Doernbecher Children's Hospital in Portland, where patients with rare diseases design sneakers as part of their therapy. Teaming with Nike/Jordan Brand, the kids at Doernbecher pour their hearts into designing unique "1 of 1" shoes, which are auctioned off to raise money for the hospital. Watch on ESPN+
"I think we were ashamed of how people would look at us, how they would look at her, once they knew what had happened," said Desiree's mother, Nickole.
The Castillos were familiar with the program. Desiree often walked to the Freestyle display during her Doernbecher stays for Type 1 diabetes, celiac disease and depression. She'd stare at the shoes encased in glass, read the bios of the current group of designers and envisioned one day becoming a designer herself. Now the opportunity was here.
"Absolutely not," Nickole said. "A strong no," added Richard, her dad.
Desiree refused to give in. She pleaded with her parents, said that she could handle it — that they could handle it. She insisted she was ready to tell her story. And doing so could help someone else. She promised her parents they wouldn't regret it. So her mom and dad said yes.
"With a lump in our throats," Nickole said.
---
AS HE SAT at his kitchen table one night in 2003, Michael Doherty — then creative director at Nike — never imagined any of this. A newly appointed Doernbecher board member, Doherty needed to find a creative way to spark fundraising for the children's hospital. His son, Connor, 14 at the time and a sneakerhead, had a simple idea: match a couple of patients with Nike designers and have them create one-of-a-kind shoes Nike could sell at auction. A year later, six patient-designers put their creative spin on Nike skateboarding shoes. The auction raised more than $60,000 for the hospital.
"We had the Cohibas out that night," Doherty said. "We had no idea."
Sixteen years later, the program has raised nearly $24 million, with the term "Doernbecher" becoming a household name in sneaker culture. Designers have dressed up shoes with everything from Superman and Captain America logos to blood drops, EKG readings and anatomical hearts. They've printed the names of doctors and nurses on the shoes. They've put their thumbprints on the outsole and inspirational messages on the sock liner. All while strictly abiding to one unbreakable rule: There are no rules.
"Usually there are things we can and can't do, but for this program we never say the word 'no,'" Nike footwear designer Bryce Wong said. "That means putting the craziest stuff on shoes, doing things that normally wouldn't make sense. But it's through the eyes of what these kids want, what they're passionate about, and that makes it an amazing experience."
The shoes have resonated with collectors, becoming one of the most anticipated annual releases on the Nike calendar. Doernbechers have been purchased by the likes of LeBron James, Luka Doncic, Tiger Woods, Ludacris, Usher Raymond and Jason Sudeikis. They've appeared in NBA games and on Hollywood red carpets. On auction night, when the designs are first revealed, shoes can sell for more than $30,000 a pair. All proceeds go to Doernbecher's "area of greatest need."
"There is no aspect of this hospital that you can look at and not see the impact of this program," said Dr. Dana Braner, physician-in-chief at Doernbecher Children's Hospital. "It allows us to use money in the spur of the moment where it is needed most to help children and families. And everything you look at here shows you that."
---
ON THE FIRST day of school in the fall of 2018, Nickole and Richard could sense that Desiree was in a funk. The anniversary of her aunt's death was quickly approaching. The two had been close. And she felt frustrated managing her Type 1 diabetes and celiac disease. Her parents began noticing that she rarely smiled in family photos, instead drifting to the back, often expressionless.
They planned to clean and reorganize her room while she was at school in the hope of surprising her when she returned home. That's when Richard lifted his daughter's pillow and found two handwritten notes. He gave them to Nickole, assuming it was some sort of girl thing. Nickole read and began to cry. She handed the notes to her husband.
"It was basically a past-tense suicide letter," Richard said. "One for us and one for her sister."
"We weren't supposed to find the letters," Nickole said. "It wasn't some threat to us. We were supposed to find it when they took her."
The night before, they would later find out, Desiree tried to kill herself by taking pills.
"I had so much going through my head," Desiree said. "I didn't know what I was doing. I didn't know what I was thinking. My aunt had passed away a year earlier, and around that time I started getting sadder and sadder. At one point, with diabetes, celiac and my aunt passing away, it turned into I wanted to be dead."
Desiree took the pills expecting to fall asleep and never wake up. But she never slept. When it was time to get ready for school the next morning, she prepared for the day like nothing had happened and tucked the notes under her pillow. "I figured I'd do something with them when I got home," she said.
Later that day, while Desiree played at recess, she heard a call to come down to the office. She assumed she had forgotten about a doctor's appointment — until she saw the look on her mom's face. She knew. The letters. "It was a look I had never seen from her before," Desiree said. "Just this fear. So much fear."
"I just wanted to grab her," Nickole said. "I wanted to hug her and hold her and ask, 'What is wrong? Why aren't you telling us you feel like this? Let us help you feel better.' I didn't know what to do. It wasn't like she was bleeding or there was this surgery or therapy she could do to feel better. Or just a pill she could take to feel better."
Nickole took Desiree to a mental health treatment center. There, a psychology team evaluated her for more than two hours. At the end of the evaluation, Nickole asked her daughter how she was feeling.
"I'm going to try it again if we go home," Desiree said.
---
IN THE PAST 16 years, 97 Doernbecher patients have participated in the Freestyle program. They are children whose stories most can't fathom, little ones battling everything from life-threatening cancers and brain tumors to potentially fatal heart defects. The hospital says most of them are still alive today.
In this class, 16-year-old Ethan Ellis has undergone six open-heart surgeries, most recently a heart transplant in December 2017. Sawyer Miller, 12, had an egg-sized tumor removed from his brain and undergoes brain scans every three months to make sure it hasn't returned. Bransen Fernando, 13, was born with kidney cancer and last year received a kidney transplant. Zion Thompson, 14, fights Hodgkin lymphoma. Kahleah Corona, 11, has gone through nine surgeries after suffering a traumatic brain injury in a car accident. And then there's Desiree, the first Freestyle designer chosen who is being treated for mental illness.
"Every shoe is unique," Doherty said. "Every kid has a different story."
Doherty has watched alumni of the program grow up. He was sitting at the U.S. indoor track and field championships in March 2016 when he heard a familiar name introduced as a competitor in the 3,000-meter race walk: Erin Gray. In 1999, when she was 12, Gray underwent open-heart surgery to correct a misplaced pulmonary vein. She designed a purple Air Pegasus in 2005. Since then, not only did she qualify for the Pan American Race Walking Cup and World Championships in race walking, she was studying to become a doctor.
Whitney McClain had two surgeries for a brain tumor at Doernbecher and later designed an Air Rift Premium in 2007. She is now an emerging R&B/soul singer-songwriter.
In 2012, at age 10, Finnigan Mooney designed a bright yellow pair of SB Dunk Highs, complete with an anatomical heart on the side and the words "thump thump" across the heel. Mooney was born with hypoplastic left heart syndrome, a congenital disability in which the left side of the heart isn't fully developed at birth. He has had more than 13 heart procedures, the first when he was 3 days old. Now 17, Mooney doesn't remember his surgeries. But he can tell you all about the tuxedo he wore on auction night. And about every inch of the design on his shoe, like the gold swoosh.
"I wanted the gold to have a little pop on it," Mooney said. "A little bling."
Mooney's parents know the impact the program had on him.
"When you're a small child and you're lying in a hospital bed, there's a lot of anxiety from people standing at the foot of your bed staring at you," said Joe Mooney, Finn's father. "Anytime somebody walked up to him that he didn't know, he thought it was a health care professional. And that generally meant pain. With this program, he was in charge. The adults were standing around waiting for him to tell them what to do. It gave him a sense of empowerment."
---
AS SHE SAT in the treatment center processing everything that had happened in the previous 24 hours, Desiree Castillo didn't know what to think. She was grateful she had never fallen asleep, thankful that her parents had found the letters and that she was getting help. But a piece of her was also frustrated that her plan had failed.
"I don't know what I was thinking. Everything was just all jumbled up," she said. "My world was spinning. I didn't know what was going on."
The mental health center suggested taking Desiree to Doernbecher's emergency room, where doctors removed the insulin pump that she uses to treat her diabetes. Doctors were concerned that Desiree might attempt to hurt herself by administering too much or too little insulin. They kept her under close observation for 72 hours. Therapists came in and out of the room. As her parents asked themselves where they went wrong, Desiree struggled to adjust to this sudden lack of trust and privacy. But the messages from everyone were clear: You're not alone. We're going to get you the help you need. We're all rooting for you.
"I should have asked for help," Desiree said. "I should have told someone I was feeling that way."
After a few days, doctors sent Desiree home. She continued regular therapy appointments. Life was different. Her parents constantly kept an eye on her, like asking her to keep the bathroom door open when she showered. In the wake of this new life came whispers about Desiree joining the Freestyle program. Nickole and Richard said no. They didn't even relay the message to Desiree. But then they thought about it some more. They talked to Desiree about how she would handle such a platform. They saw what it potentially could do for her — and others. And they agreed to let her do it.
"There are people who are like, 'That's so cool, you're designing a shoe,'" Nickole said. "But you're going to have that one mean person who says, 'You're crazy.' That's what scares me as a mom. But we've talked about it. She's ready. She knows."
Several months after falling to the floor when her doctor invited her to join the Freestyle program, Desiree stood at a photo shoot to promote the upcoming auction with her eyes closed and her arms in front of her, waiting. The photographer wanted to capture her reaction to seeing the Nike hoodie she designed for the first time. He never could have expected what happened next. Desiree held the hoodie in her arms. She opened her eyes. And almost immediately, she started bawling.
"I couldn't stop," she said.
Nickole stepped in front of the camera, asking the crew to give her daughter a couple of minutes. "I think it all just sort of hit her," Nickole said. "She had seen things on a computer monitor and colored on a paper. But to actually be handed something she had designed that was now real … it was just like, 'Wow. Look at what I did.' It was incredible."
"To see Desi hug that sweater, it sums up the whole thing right there," Nike designer Wong said. "It's such a good thing."
Wong didn't know anything about Desiree until he received a packet explaining the backstory of the patient-designer he'd be working with on this year's project. He couldn't believe what he read.
"She's been through a lot," Wong said. "I think back to when I was 10, 11 years old. The stuff she's dealing with wasn't even on my mind. So to see her grow through this process is amazing. It's eye-opening. It gives you a whole new perspective on a lot of things."
During the design process, Wong surprised Desiree with tickets for her and Richard to see singer-songwriter Billie Eilish. He grabbed a ticket himself and met the Castillos at the concert. On Desiree's birthday, Wong presented her with a pair of Nike sneakers from one of her favorite shows, "Stranger Things." And he pulled a few strings to have lyrics from "Screen," a song about mental health by one of Desiree's favorite bands, Twenty One Pilots, included in the sock liner of her Nike Zoom Janoskis.
While you're doing fine, there's some people and I who have a really tough time getting through this life so excuse us while we sing to the sky.
Every inch of Desiree's shoes has meaning. They are blue for diabetes awareness and are wrapped with the names of her three uncles, her two brothers, her little sister and her cat. She designed blood drops on the sole, a testament to what she goes through every day testing her blood sugar.
"It all ties into a message," Richard said. "The support team she has. The lyrics. That shoe really expresses everything she feels."
Of course, life is far from perfect. Designing a pair of shoes, a backpack and a sweatshirt for Nike doesn't solve the complicated issues that come with depression and mental health challenges. She wrote another letter this summer but this time handed it to her mom and acknowledged that she felt better by writing out her frustrations. She still sees a therapist.
"Those feelings aren't gone," Richard said. "It isn't like she automatically feels 100 percent every day because of this program. She still has her days. But they're fewer and farther between. This has helped with her confidence. It's something she looks forward to. And it's shown her that so many people believe in her. She's no longer in the background of photos. She's up front, smiling."
In the days before the 2019 auction, Desiree asked everyone on her team at Nike to share with her some of their favorite things. Some said spaghetti, others said cats or chickens. She took time to write individual thank-you cards to each of them, drawing pictures inside of their favorite things. She plans to keep in touch with Wong and the rest of her team long after auction night.
"This has given me hope," Desiree said. "It's a happy feeling. It's exciting. I was a shy kid. I would hide when we had family parties. I'm still shy, but I've opened up so much more. I can talk about what's going on with me. And more than anything, it's helped me feel better about myself."
For more on Desiree's shoes and the Doernbecher Children's Hospital, stream the latest episode of SneakerCenter on ESPN+.