Greg Hardy wasn't into celebrating a moral victory. Not even after coming in on short notice Saturday against ESPN's No. 7-ranked heavyweight in Alexander Volkov.
Hardy said he was "devastated" about the unanimous decision loss in the co-main event of UFC Fight Night Moscow, even though he exceeded expectations.
"The bar where I want to get to is astronomically high," Hardy said after the fight. "It's so far away from me right now, I'm in tears on the inside. I have a lot to go get, man. And I'm gonna go get it. I'm gonna bleed and I'm gonna sweat until it's done.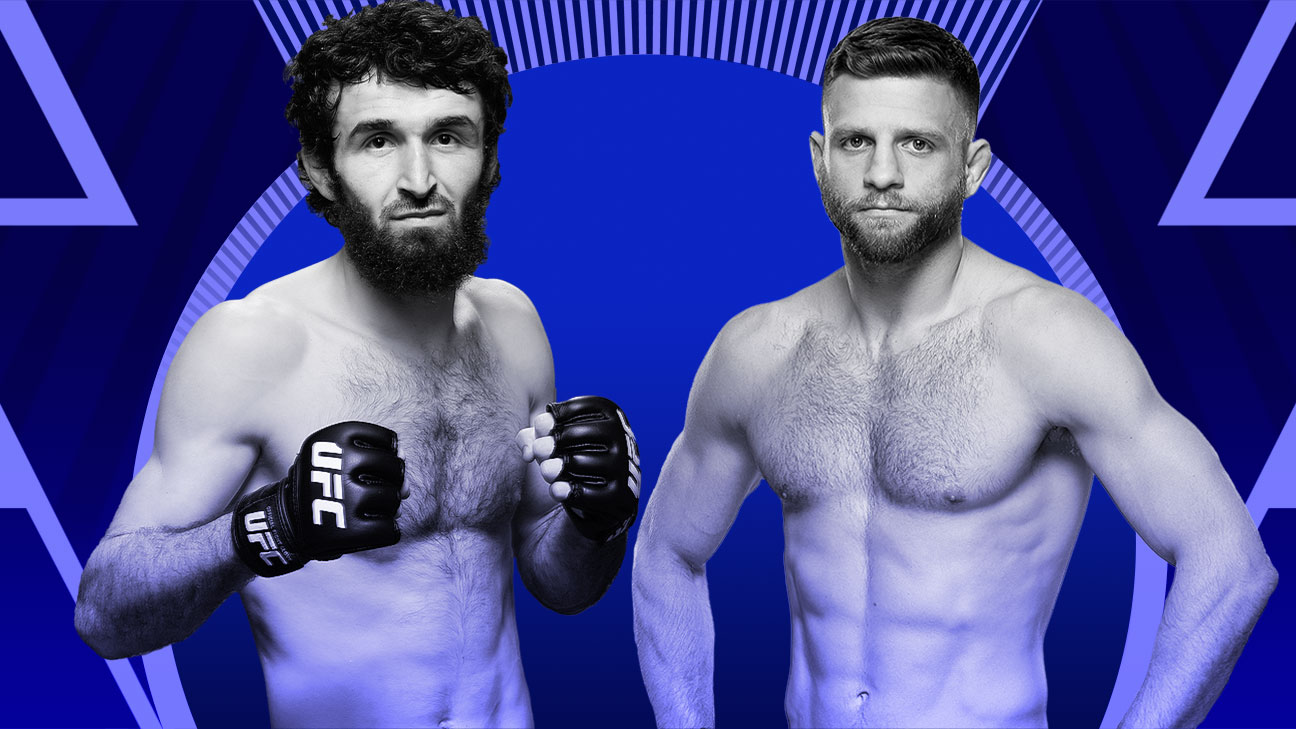 Every fight from UFC Fight Night: Zabit vs. Kattar is available to watch on ESPN+.
• Zabit Magomedsharipov vs. Calvin Kattar
• Alexander Volkov vs. Greg Hardy
• Zelim Imadaev vs. Danny Roberts
• Khadis Ibragimov vs. Ed Herman
• Ramazan Emeev vs. Anthony Rocco Martin
• Shamil Gamzatov vs. Klidson Abreu
• Magomed Ankalaev vs. Dalcha Lungiambula
• Rustam Khabilov vs. Sergey Khandozhko
• Roman Kopylov vs. Karl Roberson
• Abubakar Nurmagomedov vs. David Zawada
• Alexander Yakovlev vs. Roosevelt Roberts
• Jessica-Rose Clark vs. Pannie Kianzad
• Grigorii Popov vs. Davey Grant
Watch the complete card on ESPN+
"When I come back, I will be the 'King of War.' But right now, I'm humbly bowing down as the 'Prince of War' in defeat to one of the best in the game right now."
Who should be next for Hardy? What kind of competition is logical for him moving forward? And how about Volkov, who is one of the top heavyweights in the UFC? There are also interesting possibilities ahead for main event winner Zabit Magomedsharipov and the man who he defeated, Calvin Kattar. Let's take a look at them all.
Greg Hardy, heavyweight
Result: Lost to Alexander Volkov via unanimous decision
Who should be next? Tai Tuivasa
Sure, Volkov proved to be the better, more polished fighter. But Hardy showed that he belongs with top UFC heavyweights, and that is impressive considering he only has eight career fights with only a bit more than a year of pro experience under his belt. Also consider that Hardy fought 22 days ago and this was a historically quick turnaround for a heavyweight. To top it off, he's the first heavyweight in UFC history to fight five times in a calendar year in the modern era.
And there were no gaffes in this one. No illegal strike, which disqualified him in his first UFC fight, and no using an inhaler, which turned a win into a no contest on Oct. 18.
The UFC has tried to build up Hardy slowly, which is understandable given his experience level. But that may no longer be realistic after he hung with Volkov for three pretty competitive rounds. Hardy probably needs to face someone a notch below Volkov for his next fight, though.
Tuivasa presents a very intriguing matchup. Charismatic with knockout power, Tuivasa was once thought to be a prospect not unlike Hardy. The UFC threw him in against elite heavyweights and now the 26-year-old has lost three straight. Hardy vs. Tuivasa would answer questions about both. If Tuivasa wins, it gets him back on track. If Hardy wins, it's time for yet another top challenge. Tuivasa would also present a more favorable stylistic matchup for Hardy. Both like to brawl.
---
Alexander Volkov, heavyweight
Result: Defeated Greg Hardy via unanimous decision
Who should be next? Curtis Blaydes
Alexander Volkov is able to wear down Greg Hardy in Round 3 with multiple strikes to the body. For more UFC, sign up here for ESPN+ http://plus.espn.com/ufc.
Volkov was nearing a title shot when he was cruising against Derrick Lewis at UFC 229 in October 2018. Then Lewis caught him with a monster of a right hand with just 11 seconds left in the fight. Lewis went on to headline Madison Square Garden in a title fight against Daniel Cormier. Volkov took more than a year off before returning Saturday in a workmanlike performance against Hardy.
2 Related
Considering the wide gap in experience — 30 more pro fights — Volkov was expected to dominate Hardy. It didn't quite go that way, but Volkov did get the job done and it was a unanimous decision with every judge giving the Russian every round. Hardy is a dangerous guy, but some expected Volkov to finish him. That did not happen. Still, Volkov has won seven of his last eight fights and the one blip since 2015 came against Lewis in a bout he was winning before the KO.
Volkov should get a contender fight next and Blaydes seems like as good of a choice as anyone. Blaydes has lost twice to Francis Ngannou, so he remains behind him in the heavyweight pecking order. Ngannou figures to get the next title shot after Cormier fights Stipe Miocic for the belt in a trilogy bout. Volkov vs. Blaydes is the kind of fight that could set up the heavyweight challenger after that.
---
Zabit Magomedsharipov, featherweight
Result: Defeated Calvin Kattar via unanimous decision
Who should be next? Max Holloway vs. Alexander Volkanovski winner
Zabit Magomedsharipov is able to land multiple shots and get a takedown in his win vs. Calvin Kattar. For more UFC, sign up here for ESPN+ http://plus.espn.com/ufc.
Magomedsharipov admitted after a lackluster third round against Kattar that his cardio was not up to par for this fight. He just recently recovered from a staph infection that forced him out of UFC Boston last month. Magomedsharipov promised he would be ready for a five-round title shot next. And he's done enough now to earn that spot.
Holloway will defend his featherweight title against Volkanovski in the co-main event of UFC 245 on Dec. 14 in Las Vegas. Afterward, Magomedsharipov should be queued up next. The Dagestan native is 6-0 in the UFC and though he hasn't looked dominant in some fights he has shown flashes of brilliance. More importantly, he gets the job done. "Zabeast" has won 14 straight fights overall.
Cases can be made in terms of a title shot for the winner of the upcoming fight between Brian Ortega and "The Korean Zombie" Chan Sung Jung. Yair Rodriguez is out there, too, and on a hot streak. But no one can boast the kind of résumé that Magomedsharipov has. His pristine 18-1 record holds up very well against his peers. And imagine putting Holloway (or Volkanovski) vs. Magomedsharipov in the co-main event of a Khabib Nurmagomedov title fight? It would be massive for the UFC in Russia.
---
Calvin Kattar, featherweight
Result: Lost to Zabit Magomedsharipov via unanimous decision
Who should be next? Jeremy Stephens
Kattar's stock doesn't drop all that much in a losing effort. He was the underdog against Magomedsharipov in Magomedsharipov's home country. The fight was supposed to be last month at UFC Boston, near Kattar's hometown of Methuen, Massachusetts, but Magomedsharipov withdrew due to a staph infection and the bout was moved to this weekend.
In the third round Saturday, Kattar put it on Magomedsharipov with combinations and dominated. He couldn't get the finish and Magomedsharipov won the first two rounds, but Kattar proved he can hang and is capable of beating the top featherweights in the world. There shouldn't be much of a step down for him next. Kattar still has a solid 4-2 record in the UFC. Stephens is winless in four straight, but is still considered a tough and dangerous 145-pounder.
Kattar vs. Stephens would make sense on several levels. If Stephens were to win, it would end his skid and keep him in his current role as the man to beat before getting a title contender next. Stephens seems to be a two- or three-fight winning streak away from a chance at the belt. If Kattar wins, then he's definitely ready for prime time — top-10 caliber opponents and above.