The UFC makes its third trip to Russian soil this weekend and everything is lined up for another breakout performance by featherweight Zabit Magomedsharipov. But Calvin Kattar isn't really in favor of that plan.
Ever since Magomedsharipov (17-1) signed with the UFC in 2017, he's been on a rocket ship to stardom. The Russian contender, No. 5 in ESPN's rankings at 145 pounds, is primed to make another leap in the rankings Saturday when he faces Kattar (20-3) in the main event of UFC Fight Night in Moscow. The event airs on ESPN+, with the main card getting underway at 2 p.m. ET and the prelims at 11 a.m.
The UFC's return to Russia features a main event with two featherweights looking to get into title contention and a co-main event that should be filled with heavy hits. Zabit Magomedsharipov (17-1) and Calvin Kattar (20-3) will close the show in Moscow, and Greg Hardy will face by far his toughest test in veteran Alexander Volkov (30-7).
UFC Fight Night: Zabit vs. Kattar
• Saturday, Moscow
• Prelims: ESPN+, 11 a.m. ET
• Main card: ESPN+, 2 p.m. ET
Subscribe to ESPN+ to get exclusive live UFC events, weigh-ins and more; Ariel and the Bad Guy; Dana White's Contender Series; and more exclusive MMA content.
The fight was originally supposed to happen last month in Boston — near Kattar's hometown — but was moved to Moscow after Magomedsharipov came down with a staph infection. Kattar has been a good sport about the change in location, even if it did cost him a chance to fight in his backyard. Preserving the highly ranked Magomedsharipov as an opponent was his top priority.
Magomedsharipov, 28, who trains in New Jersey alongside such names as Frankie Edgar and Marlon Moraes, has more or less breezed through his UFC competition to date. He attended a martial arts academy from a young age in Dagestan and has been pegged as a potential future champion since his UFC debut.
Kattar's path to this weekend has come under less fanfare. He also signed with the promotion in 2017 but not as a high-profile prospect. He came in as a late replacement for a fight against Andre Fili. Kattar was a betting underdog in his first two UFC appearances, but he has earned attention as a possible title contender with a 4-1 record in the Octagon.
Saturday will showcase a Russian prospect turned title contender, who thus far has exceeded even the high expectations on him, against a blue-collar fighter from Massachusetts, whose rise into 145-pound title contention has been far less expected. And the fact Kattar had to ultimately agree to go from his own backyard to his opponent's adds a personal edge to it all.
By the numbers
4,466: Miles from Moscow to Kattar's hometown of Methuen, Massachusetts. This fight was originally scheduled for 30 miles from home, in Boston.
13: Consecutive victories by Magomedsharipov, a streak dating back to September 2013.
9: First-round finishes for Kattar, including in his past two fights, both knockouts.
59.1: Percentage of takedown attempts successfully defended by Magomedsharipov, highest among active featherweights, according to UFC Stats.
4: Seconds spent in bottom position by Kattar in his five UFC fights. He has stopped four of of five takedown attempts by opponents.
Source: ESPN Stats & Information
A look back
Five vs. five
Zabit Magomedsharipov's most recent results
Win: Jeremy Stephens (UD, March 2, 2019)
Win: Brandon Davis (SUB2, Sept. 8, 2018)
Win: Kyle Bochniak (UD, April 7, 2018)
Win: Sheymon Moraes (SUB3, Nov. 25, 2017)
Win: Mike Santiago (SUB 2, Sept. 2, 2017)
Calvin Kattar's most recent results
Win: Ricardo Lamas (TKO1, June 8, 2019)
Win: Chris Fishgold (TKO1, Oct. 27, 2018)
Loss: Renato Moicano (UD, April 7, 2018)
Win: Shane Burgos (TKO3, Jan. 20, 2018)
Win: Andre Fili (UD, July 29, 2017)
Fighting words
"I get to live out 'Rocky IV' like every other kid wanted to do growing up."
–Kattar, speaking to theScore MMA, referring to the 1985 film in which Rocky travels to Moscow to fight an indestructible Russian
Film study
The night Zabit defeated Kattar's training partner:
Kattar has come a long way
Magomedsharipov vs. Kattar was originally scheduled to take place on Oct. 18 at TD Garden in Boston, less than 30 miles from Kattar's home. Instead, due to a Magomedsharipov infection, the bout was delayed and will now be held in Magomedsharipov's home country of Russia.
Although Kattar has joked he's going to live his own "Rocky IV" story, the change of venue seems like a dose of bad luck for him. However, Tyson Chartier, the coach and manager for the Massachusetts fighter, believes the opposite. Kattar, he said, has spent his life going down a different path than the one that might have been destined. He doesn't think things will change now with Kattar on the cusp of UFC title contention.
"He finds ways to put these chips on his shoulders to prove people wrong, even if they're self-fabricated," Chartier said. "He just figures it out and he's like, 'No, I'm gonna f— this kid up. F— them for thinking that.' It's a me-against-the-world-type thing. He's got his little circle around him and he's like, 'We're gonna prove everybody wrong.' That's his personality. He could have easily gone down the wrong road, but he didn't."
After his last fight, a knockout win over onetime featherweight title challenger Ricardo Lamas at UFC 238 in June, Kattar wanted to share a message with the world. "Real quick, I want to say last month I lost my best friend growing up," Kattar said during his interview inside the Octagon. "Anybody fighting addiction, please go seek help, because if you're not going out and getting help, it's your loved ones, your family that have to carry that grief. If you're not gonna do it for yourself, do it for them."
Kattar had a childhood friend die of a drug overdose in May after a long struggle with opioid addiction, and now Kattar hopes to use his platform for good. Saturday's fight is a chance for Kattar to prove himself as one of the best 145-pound fighters in the world and inspire others in the process.
"He just doesn't give up," said his mother, Sandra. "He tries his hardest; he has passion. I'm just so proud of what he's accomplished."
–Marc Raimondi
Brett Okamoto's prediction
I believe Magomedsharipov is as good as advertised. The hype has always been real around him, and he has done nothing to lessen it. If anything, you get the sense we haven't seen the best of Magomedsharipov yet, even though he has comfortably churned through UFC opposition. The thing is, Kattar knows all of this to be true and he still asked for this fight. He wanted Magomedsharipov. They are each other's toughest fight to date, and I've got a gut feeling about the underdog. Kattar via decision.
Waiting in the wings
Alexander Volkanovski challenges Max Holloway for the UFC belt in five weeks. Might they both take a 25-minute break from training to scout their potential next challenger? Magomedsharipov is No. 6 in the ESPN rankings, and the two UFC fighters between him and the title-fight contestants have already lost to Holloway. So Zabit could be next, if he wins. Kattar is unranked, so he'd likely have to do something spectacular to jump to the head of the queue. But any sort of victory would gain him the full attention of those above.
What else to look for … beyond the main event
The rest of the card, co-main event down:
ESPN+, 2 p.m. ET
Heavyweight: Alexander Volkov vs. Greg Hardy
Welterweight: Zelim Imadaev vs. Danny Roberts
Light heavyweight: Khadis Ibragimov vs. Ed Herman
Welterweight: Ramazan Emeev vs. Anthony Rocco Martin
Light heavyweight: Shamil Gamzatov vs. Klidson Abreu
ESPN+, 11 a.m. ET
Light heavyweight: Magomed Ankalaev vs. Dalcha Lungiambula
Welterweight: Rustam Khabilov vs. Sergey Khandozhko
Middleweight: Roman Kopylov vs. Karl Roberson
Welterweight: Abubakar Nurmagomedov vs. David Zawada
Lightweight: Alexander Yakovlev vs. Roosevelt Roberts
Women's bantamweight: Pannie Kianzad vs. Jessica-Rose Clark
Men's bantamweight: Grigorii Popov vs. Davey Grant
Greg Hardy is finally in for a fight
To this point in Greg Hardy's young MMA career, he has not faced top-level opposition. Far from it. He has not even seen his level of competition escalate. But that will change in a big way in Saturday's co-main event, when he steps in as a short-notice replacement to take on Alexander Volkov.
Volkov, who was originally slated to face Junior Dos Santos before the Brazilian pulled out because of an infection, is a legit heavyweight contender, No. 7 in the ESPN rankings. The 31-year-old Moscow native (30-7) has been competing professionally in MMA since 2009, which was Hardy's senior year of college football at Ole Miss. Hardy was taken in the first round of the 2010 NFL draft by the Carolina Panthers, for whom he became a Pro Bowl defensive end. But by 2015 he was out of the league in the wake of a domestic violence conviction (later expunged from his record on appeal), and in 2016 Hardy turned to MMA.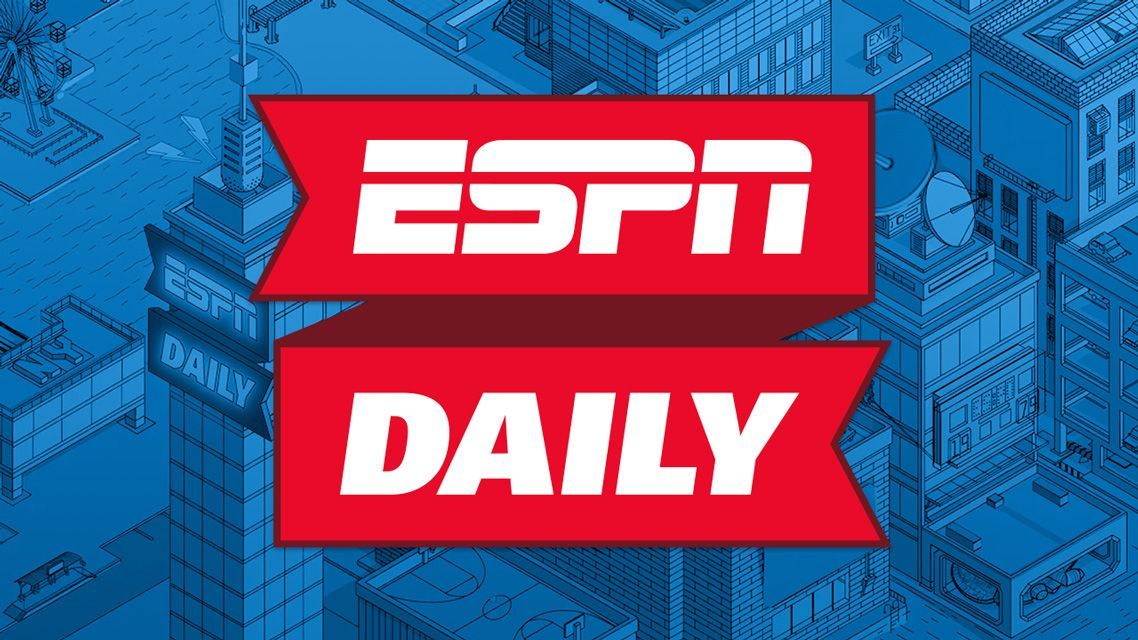 Monday through Friday, host Mina Kimes brings you an inside look at the most interesting stories at ESPN, as told by the top reporters and insiders on the planet. Listen
On Saturday, Hardy (5-1, 1 NC) will compete in his eighth professional fight, fifth in the UFC. Is stepping in with Volkov, who owns victories over two former UFC heavyweight champions (Fabricio Werdum, Ricco Rodriguez), a case of too much too soon? It's certainly a sudden jump in competition. But Hardy has high aspirations, telling ESPN, "I think I could be one of … if not the greatest fight sports heavyweight of all time. Not even just MMA, just the greatest combat sports heavyweight." So even though his pre-UFC background differs from those of many top fighters, Hardy's lifelong pursuit of high-level sports competition opens him to comparison.
Here's how Hardy stacks up to the top five heavyweights in the ESPN rankings at the same point in their careers:
1. Stipe Miocic. The champ's eighth career fight was against undefeated Phil de Fries, who now reigns as KSW heavyweight champ. By that point, Miocic had already faced Joey Beltran, a tough guy with 18 professional fights at the time. Stipe's fifth UFC fight was against Roy Nelson, and just prior to that one he took on Stefan Struve.
2. Daniel Cormier. His eighth pro fight was against Jeff Monson, a veteran of 53 bouts who five years earlier had challenged for the UFC heavyweight championship. The fifth UFC opponent for DC? Jon Jones.
3. Francis Ngannou. He faced Curtis Blaydes in his eighth pro fight. His fifth UFC bout was a first-round knockout of ex-champ Andrei Arlovski.
4. Curtis Blaydes. His eighth pro fight was against Adam Milstead, although by that time he had already faced Ngannou. The fifth UFC foe on the Blaydes resume was Aleksei Oleinik, who at the time had 66 pro bouts under his belt.
5. Junior Dos Santos. His eighth pro fight was a knockout win over future UFC champ Fabricio Werdum. That was his UFC debut. By his fifth fight in the promotion, against Gabriel Gonzaga, JDS had already shared the Octagon with Mirko "Cro Cop" Filipovic and Struve.
Quick hits
Some UFC Moscow facts, courtesy of ESPN Stats & Information's Andrew Davis:
This third UFC fight card in Russia is the first not headlined by Aleksei Oleinik. The Russian heavyweight (57-13-1) was 1-1 in those two main events, defeating Mark Hunt last year in Moscow and losing to Alistair Overeem in April in Saint Petersburg.

The elder statesman on this card is 39-year-old light heavyweight Ed Herman, who is fighting in the UFC for the 23rd time. The man known as "Short Fuse" made his UFC debut in 2006 in the Season 3 middleweight final of "The Ultimate Fighter," losing a decision to Kendall Grove. Herman is looking to secure consecutive wins for the first time since 2012, when he won three in a row.

Two unbeaten fighters from Russia will be putting those spotless records on the line in their UFC debuts. Former PFL fighter Shamil Gamzatov (13-0) is on the main card against Klidson Abreu. If Gamzatov wins the light heavyweight bout, he will have the third-best record among active UFC fighters, behind champions Khabib Nurmagomedov (28-0) and Israel Adesanya (18-0). The other debutant fighter is 8-0 Roman Kopylov, who faces Karl Roberson at middleweight.

Speaking of the name Nurmagomedov, Khabib's cousin Abubakar makes his UFC debut on the prelims against David Zawada. Abubakar Nurmagomedov, a welterweight, fought in the 2018 PFL playoffs but failed to advance past the quarterfinals.

Twelve of Saturday's 13 fights feature at least one fighter from Russia. The lone bout without a Russian is the only women's fight on the card, in which Jessica-Rose Clark of Australia faces Swedish bantamweight Pannie Kianzad.