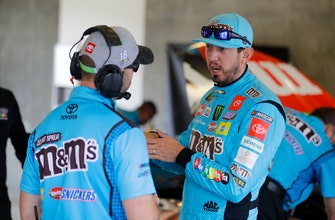 INDIANAPOLIS (AP) — The Latest on the Brickyard 400 at Indianapolis: (all times local):
4:50 p.m.
Jimmie Johnson's playoff run is over.
The seven-time Cup champion needed to earn 12 points in the final stage Sunday but instead hit the wall coming through the second turn in another big crash at Indianapolis Motor Speedway. Johnson drove the No. 48 car that has been in every NASCAR playoff back to pit row and into Gasoline Alley. It's the first time since the format was implemented in 2004 that Johnson won't participate.
The crash occurred when the rear end of Johnson's car was spun in front of Kurt Busch, sending both into the outside wall.
Kevin Harvick won the second stage of the Brickyard 400 under caution — the same way Joey Logano claimed the first stage.
Johnson briefly inherited the lead when two-time race winner Kyle Busch pulled onto pit row with a blown engine late in the second stage on Lap 88.
The race was stopped again a few laps later for debris on the track, with the four drivers vying for the final two playoff spots in position for a potentially wild shootout. Clint Bowyer was fifth, Daniel Suarez was sixth, Johnson was eight and Ryan Newman was 12th.
But track workers didn't get the debris cleared in time.