Editor's note: This story was originally published in March 2018, and has been updated for this year's NCAA men's hockey tournament. Stats are current through Saturday.
My first NCAA Frozen Four was in Washington, D.C., in 2009. I was a casual fan of men's Division I college hockey, which meant I had absolutely no idea what a Bemidji State was, nor that it was in fact nicknamed the Beavers.
But after watching the school's unexpected run through the bracket, I learned the name of Matt Read, now under contract with the Minnesota Wild; and I came to understand that Joel Otto, one of the greatest shutdown defensive forwards of the past 40 years, was also a former Beaver. I knew these players, and hence had an entry point to the programs.
Some fans can quote the college connections of NHL players like scripture; for others, some of these origins might come as a surprise. It all speaks to the incredible impact the NCAA has had on developing star players in the NHL, and how that impact has grown in recent years.
With the 2019 NCAA hockey tournament upon us, we wanted to take a look at the legacy of college hockey's top programs — some involved in this year's bracket, some in a down cycle — and rank the ultimate lineups for them.
A couple of ground rules. First, this is based on the players' NHL careers, both in overall accomplishment and for what these players accomplished at the height of their powers. Also, these are six-player lineups with left and right wings, a center, two defensemen and a goalie. Alas, no cheating by moving a wing to center who never played center in the NHL, although we did move centers to the wing in some cases.
Here are the top 10 ultimate lineups in NCAA men's Division I hockey history, along with Chris Peters' pick for each school's all-time greatest player based upon their collegiate career:
---
10. Denver
LW Glenn Anderson (1978-79; 498-601-1,099 in 1,129 NHL games)
C Paul Stastny (2004-06; 230-453-683 in 869 NHL games)
RW Kevin Dineen (1981-83; 355-405-760 in 1,188 NHL games)
D Matt Carle (2003-06; 45-238-283 in 730 NHL games)
D Keith Magnuson (1965-69; 14-125-139 in 589 NHL games)
G Pete LoPresti (1972-74; 43 wins in 173 NHL games)
It's hard to argue with a Hall of Famer on left wing and a Hartford Whalers legend on right wing, sandwiched around a capable offensive center. Magnuson, who tragically died in a December 2003 car accident, was a beloved defensive defenseman for the Chicago Blackhawks who pairs well with the puck-moving Carle. Alas, the Curse of the NCAA Goalie Pool strikes the Pioneers: Our choices were LoPresti, Ron Grahame or Wade Dubielewicz. Hence, Denver caps our top 10, rather than ranking higher.
Chris Peters' all-time great: Keith Magnuson (1965-69). A repeat entry from the ultimate lineup, Magnuson remains revered at Denver. For the 50th anniversary of the WCHA, Magnuson was selected by a panel of experts as the conference's best defenseman of all time. The two-time All-American helped Denver win two national titles and was named the WCHA MVP in 1968. He was part of the first class inducted into Denver's Hall of Fame.
9. Michigan State
LW Bryan Smolinski (1989-93; 274-377-651 in 1,056 NHL games)
C Rod Brind'Amour (1988-89; 452-732-1,184 in 1,484 NHL games)
RW Joe Murphy (1985-86; 233-295-528 in 779 NHL games)
D Duncan Keith (2001-03; 97-482-579 in 1,069 NHL games)
D John-Michael Liles (1999-03; 87-283-370 in 836 NHL games)
G Ryan Miller (1999-2002; 377 wins in 755 NHL games, .915 save percentage)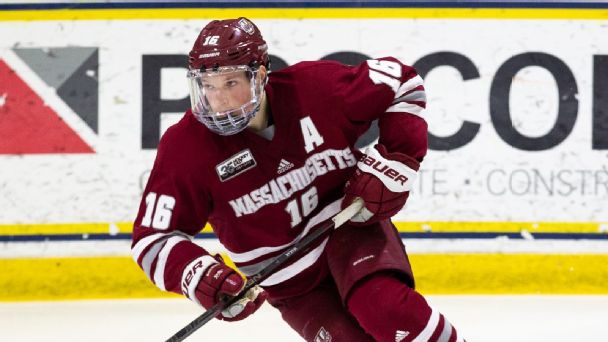 March 29-31, April 11-13 (WatchESPN)
• Full tournament schedule »
• Tiering all 16 teams, picks, more »
• Cale Makar and UMass' turnaround »
The Spartans have the holy trinity for dominating defense: two-way dynamo Brind'Amour at center, Keith playing 29 minutes on the blue line and Miller's stellar netminding. Murphy was the clear call on the right side, but we're shifting Smolinski from center to left wing over Shawn Horcoff (also a center), Kelly Miller and Craig Simpson.
Chris Peters' all-time great: Tom Ross (1972-76). There's a good case for Ryan Miller in this slot, but it's hard to argue with what Ross did during his four-year career. He is Michigan State's all-time record holder in goals (138) and assists (186), and his 324 career points rank second all time in men's college hockey. His final collegiate season saw him put up 51 goals and 105 points in 41 games. He played 216 games in the old International Hockey League but never played in the NHL.
8. Maine
LW Paul Kariya (1992-94; 402-587-989 in 989 NHL games)
C Dustin Penner (2003-04; 151-159-310 in 589 NHL games)
RW Gustav Nyquist (2008-11; 128-173-301 in 493 NHL games)
D Eric Weinrich (1985-88; 70-318-388 in 1,157 NHL games)
D Keith Carney (1988-91; 45-183-228 in 1,018 NHL games)
G Ben Bishop (2005-08; 199 wins in 366 NHL games, .920 save percentage)
It's too bad there aren't trades allowed within this ranking, because Maine has Bishop ahead of Jimmy Howard, Mike Dunham and Garth Show (you know, in case the team needs a GM). We're toeing the line on cheating with the forward group, but Penner played a few games at center in the NHL so we're slotting him between a Hall of Famer and Nyquist. Otherwise, it would be the Bob Corkum show. Carney and Weinrich are a serviceable defensive duo.
Chris Peters' all-time great: Jim Montgomery (1989-93). While Kariya's exploits at Maine are well known by hockey fans everywhere, Black Bears fans can't mention Kariya without recalling Montgomery just as fondly. He had 301 points in 170 games, which is fourth most in NCAA men's hockey history. Montgomery cemented his legend status with a third-period hat trick to rally Maine from a 4-2 deficit in the 1993 national championship game against Lake Superior State. It was a 5-4 final with the captain securing Maine's first national title and a staggering 41-1-2 record. He played in 122 NHL games and is now the head coach of the Dallas Stars.
7. Vermont
LW John LeClair (1987-91; 406-413-819 in 967 NHL games)
C Patrick Sharp (2000-02; 286-332-618 in 930 NHL games)
RW Martin St. Louis (1993-97; 391-642-1,033 in 1,134 NHL games)
D Aaron Miller (1989-93; 25-94-119 in 677 NHL games)
D Kevan Miller (2007-11; 12-54-66 in 321 NHL games)
G Tim Thomas (1993-97; 214 wins in 426 NHL games, .920 save percentage)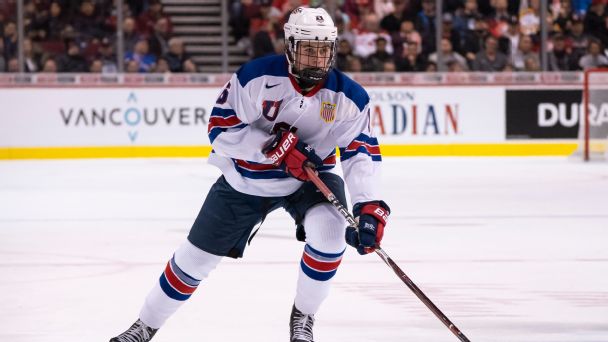 The 2019 NHL draft is June 21-22 in Vancouver. Get ready with the latest prospect rankings and our mock draft.
• Mock Draft 1.0

• Top 50 draft prospects

» More coverage of the NHL draft
There have been 18 Catamounts who made the NHL, and yet look at the lineup they can put together: a Hall of Famer on right wing and a 400-goal scorer on the left side, with a solid two-way center in between them. (Those two ways: playing hockey, looking striking handsome.) If Miller and Miller, Attorneys at Law, don't do it for you on defense, Thomas will obviously stop anything that gets through them as a two-time Vezina winner.
Chris Peters' all-time great: St. Louis (1993-97). Not to repeat Greg too much here, but there was really only one option for Vermont. St. Louis is the school's all-time leading scorer with 267 points, and helped lead the Catamounts to their first Frozen Four appearance in 1996. He is a three-time All-American and was a finalist for the Hobey Baker in three straight seasons. Along with Adam Oates, he is considered one of the best undrafted college free agents in NHL history. Vermont retired his No. 8 in 2016.
6. Boston University
LW Keith Tkachuk (1990-91; 538-527-1,065 in 1,201 NHL games)
C Jack Eichel (2014-15; 99-153-252 in 278 NHL games)
RW Tony Amonte (1989-91; 416-484-900 in 1,174 NHL games)
D Kevin Shattenkirk (2007-10; 75-273-348 in 601 NHL games)
D Adrian Aucoin (1991-92; 121-278-399 in 1,108 NHL games)
G Rick DiPietro (1999-2000; 130 wins in 318 NHL games, .902 save percentage)
Tkachuk and Amonte were clear choices given their goal totals, but then we had a choice to make: Center Chris Drury, the proven commodity with 615 points in 892 games? Nah, we went with Eichel, he of the 0.84 points-per-game average through three NHL seasons. Shattenkirk and Aucoin can produce points, and Aucoin was an underrated defender. And when DiPietro gets injured … well, they probably turn to Jim Craig, who at least knows his way around a miracle.
Chris Peters' all-time great: Drury (1994-98). There are a lot of good options in BU's history including all-time leading scorer John Cullen and going back even further to star of the 1950s Jack Garrity, but I'm going with Drury. He was an absolute goal-scoring machine for BU, finishing with a school record 113 in four seasons. Drury is also third all time at BU with 213 career points. He was the first Terrier to win the Hobey Baker, was a two-time All-American, a four-time Beanpot champion and helped BU to the 1995 national title as a freshman.
5. Minnesota
LW Thomas Vanek (2002-04; 373-416-789 in 1,029 NHL games)
C Neal Broten (1978-81; 289-634-923 in 1,099 NHL games)
RW Phil Kessel (2005-06; 354-462-816 in 990 NHL games)
D Mike Ramsey (1978-79; 79-266-345 in 1,070 NHL games)
D Erik Johnson (2006-07; 76-208-284 in 710 NHL games)
G Frank Pietrangelo (1982-86; 46 wins in 141 NHL games, .873 save percentage)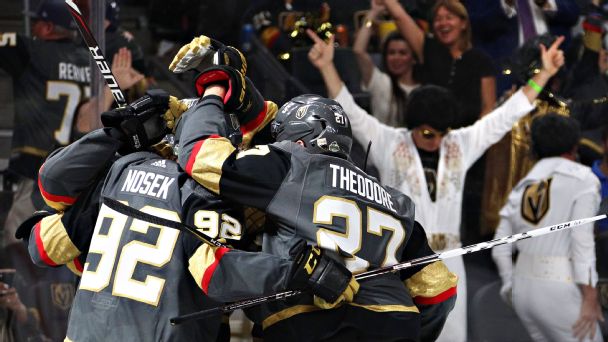 Catch more than 180 NHL games streaming live this season on ESPN+. Click here for the upcoming schedule and to learn how to subscribe.
Vanek, Broten and Kessel were all easy calls at forward, despite Blake Wheeler (594 points in 769 games) being an option. Ramsey, a workhorse defenseman, was another no-brainer. The other defensive spot came down to EJ and Reed Larson, a 70-point defenseman in the 1980s for the Detroit Red Wings. But then weren't they all 70-point defensemen in the 1980s? The Gophers would have burrowed deeper into this countdown, but Pietrangelo was the best they can do in goal, with due respect to Robb Stauber.
Chris Peters' all-time great: John Mayasich (1952-54). An icon in the state of Minnesota, Mayasich has been considered by those who saw him play as one of the greatest Americans to ever lace up skates. His collegiate numbers are stunning with — and I'm not making this up — 144 goals and 298 points in 111 career games in two seasons. Mayasich's legend is more regional because he never played in the NHL. It was rather difficult for Americans to wedge their way into the six-team league then, and Mayasich had military obligations that cost him two years. He did, however, play in two Olympic Winter Games and was part of the 1960 U.S. gold-medal team. In 15 Olympic contests, Mayasich had 22 points.
4. Michigan
LW Max Pacioretty (2007-08; 248-239-487 in 687 NHL games)
C Red Berenson (1959-62; 261-397-658 in 987 NHL games)
RW Michael Cammalleri (1999-02; 292-348-640 in 902 NHL games)
D Jack Johnson (2005-07; 67-224-291 in 864 NHL games)
D Aaron Ward (1990-93; 44-107-151 in 839 NHL games)
G Marty Turco (1994-98; 275 wins in 543 NHL games, .910 save percentage)
Berenson played decades earlier than most of the guys on this list, so here's the deal: He was a solid two-way center who won a Stanley Cup with the Canadiens and was better than a point-per-game scorer for the expansion Blues. And, he's 100 percent going to be a player/coach for this team — our version of Reg Dunlop, if you will. Plenty of scoring on the wings, a good puck-mover and stay-at-home combo on defense in front of the second-best puck-handling goalie named Marty in NHL history.
Chris Peters' all-time great: Brendan Morrison (1993-97). As the best player during a golden era of Michigan hockey, Morrison picked up just about every accolade one could acquire over a brilliant four-year career at Michigan. A three-time All-American, two-time CCHA Player of the Year, and the 1997 Hobey Baker winner, Morrison is Michigan's all-time leading scorer, with 284 points in 155 games. He also scored the national championship-winning goal in overtime in 1996 to end a 32-year title drought. He had a long NHL career, appearing in 934 games and recording 601 points.
3. Boston College
LW Johnny Gaudreau (2013-14; 132-248-380 in 387 NHL games)
C Craig Janney (1985-87; 188-563-751 in 769 NHL games)
RW Joe Mullen (1975-79; 502-561-1,063 in 1,062 NHL games)
D Brian Leetch (1986-87; 247-781-1,028 in 1,205 NHL games)
D Brooks Orpik (1998-2000; 18-175-193 in 1,028 NHL games)
G Cory Schneider (2004-07; 166 wins in 393 NHL games, .919 save percentage)
The rigid criteria of our lineups — you know, using centers at center — prevents us from putting Bill Guerin on the Eagles, despite him clearly being among the three best forwards the program has produced. So it's Janney instead at the pivot. Gaudreau's undeniably explosive game beats out the Mario Lemieux-inflated offense of Kevin Stevens. Leetch and Orpik are beauty and bludgeoning on defense, in front of a very capable Schneider.
Chris Peters' all-time great: David Emma (1987-91). There are so many good options to choose from, but we'll go with the school's all-time leading scorer in this case. Emma won the Hobey Baker in 1991, was a finalist in 1990 and is a two-time All-American. He had 239 points in 147 career games at BC. The Eagles have retired 13 players' jerseys but have left 12 of those players' numbers in rotation. The only number permanently retired is Emma's No. 16. He was a member of the 1992 U.S. Olympic Team but played in only 34 NHL games.
2. North Dakota
LW Zach Parise (2002-04; 359-385-744 in 945 NHL games)
C Jonathan Toews (2005-07; 324-424-748 in 865 NHL games)
RW T.J. Oshie (2005-08; 209-303-512 in 729 NHL games)
D James Patrick (1981-83; 149-490-639 in 1,280 NHL games)
D Craig Ludwig (1979-82; 38-184-222 in 1,256 NHL games)
G Ed Belfour (1986-87; 484 wins in 963 NHL games, .906 save percentage)
You know who we hadn't thought of in roughly 20 years? Patrick, a top-30 scoring defenseman in NHL history who amassed a bunch of points in the 1980s and them morphed into a dependable defenseman, playing until he was 37. Pair him with Ludwig and you have a couple of crafty veterans in front of the best goalie to ever play NCAA hockey. Up front, Parise and Oshie flank one of the top 100 players in NHL history, per the NHL. An incredible lineup, but not quite the greatest.
Chris Peters' all-time great: Tony Hrkac (1984-85, 1986-87). Normally I'd look for longevity in picking an all-time great, but I can't think of North Dakota hockey without thinking of the 1986-87 team dubbed the "Hrkac Circus." One of two Hobey Baker winners in the history of this storied program, Hrkac spent only two years in school, with Canadian national team duty and later the NHL keeping him from going the full four. The Thunder Bay, Ontario, native helped lead North Dakota to the 1987 national championship while compiling a stunning 116 points in 48 games, an NCAA single-season record. He went on to play in 758 NHL games but never quite matched his collegiate scoring success.
1. Wisconsin
LW Dany Heatley (1999-2001; 372-419-791 in 869 NHL games)
C Joe Pavelski (2004-06; 354-406-760 in 960 NHL games)
RW Scott Mellanby (1984-86; 364-476-840 in 1,431 NHL games)
D Chris Chelios (1981-83; 185-763-948 in 1,651 NHL games)
D Ryan Suter (2003-04; 82-457-539 in 1,067 NHL games)
G Curtis Joseph (1988-89; 454 wins in 943 NHL games, .906 save percentage)
Here it is, the ultimate NCAA hockey alumni lineup. Hall of Famer Chelios on defense. Minnesota Wild blueliner Suter, one of the best defensemen of his generation, next to him; or, failing that, take his uncle, U.S. Hockey Hall of Famer Gary Suter. Pavelski in the middle, with Heatley — one of the top goal scorers in the NHL at the height of his powers — on one side, and the truculent Mellanby on the other, ranked slightly ahead of Tony Granato. In goal, we'll take Cujo over Mike Richter by a razor-thin margin. The New York Rangers' star was clutch, but Joseph's .917 career save percentage in the playoffs is nothing at which to scoff. This lineup is the strongest an NCAA program could produce. Congrats to these players. Wear it like a Badger honor.
Chris Peters' all-time great: Mark Johnson (1976-79). Johnson spent three highly productive years at Wisconsin, playing for his father, the legendary "Badger" Bob Johnson. He would have played a fourth, probably, but he was busy preparing for the 1980 Olympic Winter Games, where he led Team USA in scoring and potted two goals in the famed Miracle on Ice game. Despite playing only three seasons, Johnson is second in all-time scoring at Wisconsin, with 267 points in only 125 games, and was part of a national championship as a freshman. He appeared in 669 NHL games and now serves as the head coach of UW's highly decorated women's hockey program.