PITTSBURGH — For a team that traditionally combs through the clearance rack of free agency, even mildly aggressive spending caught the attention of Pittsburgh Steelers fans.
Pittsburgh used the tampering period to offer cornerback Steven Nelson $25.5 million over three years, the richest contract in franchise history for the first week of free agency. Then it doubled-down with a complementary receiver, Donte Moncrief, at $9 million over two years. And after losing linebacker L.J. Fort to free agency, the Steelers thought bigger. Hybrid linebacker/safety Mark Barron has the pedigree of a former top-10 pick and got $12 million over two years from Pittsburgh after the Los Angeles Rams cut him.
To be sure, the Steelers aren't exactly locking into $46 million on these three players. The team doesn't guarantee money beyond the signing bonus, and each deal can be escaped after one year with minimal issues. And multiple teams around the league have doubled the Steelers' spending.
But a combination of draft-day misses, unexpected star-player departures and actual cap space (for once) led the Steelers down this path.
Cornering the market
The Steelers' struggles drafting cornerbacks are tough to ignore. They drafted five corners in the first five rounds from 2015-17, including first-round pick Artie Burns, and none of them entered this offseason as a projected starter. Two are no longer with the team.
Spending such draft capital only to see free-agent pickups Joe Haden and Coty Sensabaugh and undrafted slot corner Mike Hilton handle the bulk of the 2018 work is an indictment of the team's evaluations of collegiate defensive back talent.
And apparently the Steelers were fed up. So they targeted free agents Nelson and Bradley Roby, armed with three-year deals. Roby took the Houston Texans' one-year, $10 million pact. Nelson, listed as an above-average corner by Pro Football Focus after four interceptions in 2018, instantly becomes the Steelers' starting outside corner opposite Haden.
Giving an ascending 26-year-old $9 million in Year 1 with hopes of finding a long-term starter is a sensible bet, considering the Steelers' revolving door at the position.
And Nelson wants all the smoke, which always helps. He welcomes the challenge of going up against new Cleveland Browns receiver Odell Beckham Jr.
"Twice a year, all year," Nelson said.
Over the middle
The Steelers began free agency by placing several calls to receivers in the market, including Tyrell Williams, John Brown and Phillip Dorsett.
But Williams got more than $10 million per year from the Oakland Raiders, and Brown got close to that from the Buffalo Bills. The Steelers weren't willing to go that far. But they had to do something after Antonio Brown forced his way out of Pittsburgh and into the home of Oakland Raiders quarterback Derek Carr.
They needed a player who was capable enough to prevent the franchise from reaching in the draft but not good enough to price them out.
Along came Moncrief, who underwhelmed in one season with Jacksonville but has three touchdowns in his last five games against Pittsburgh and showed off his size and speed with Indianapolis, which drafted him in the third round in 2014. His two-year deal is manageable if things don't work out, or if second-year receiver James Washington supplants him in the starting lineup.
Moncrief isn't expecting to replace Brown, but to simply be himself.
"I'm looking forward to playing with Ben [Roethlisberger]," Moncrief said. "Hall of Fame guy. Chance to play some years with him and catch a lot of balls."
Roethlisberger is always looking for red-zone targets, and Moncrief's size (6-foot-2, 216 pounds) can help in this area.
'Strong and smart'
The Steelers basically had two needs at the same position. They never truly replaced Ryan Shazier at inside linebacker, and last year's free-agent pickup Morgan Burnett has made it clear that he doesn't want to be a dime linebacker. He asked for his release because he wants to play safety full time.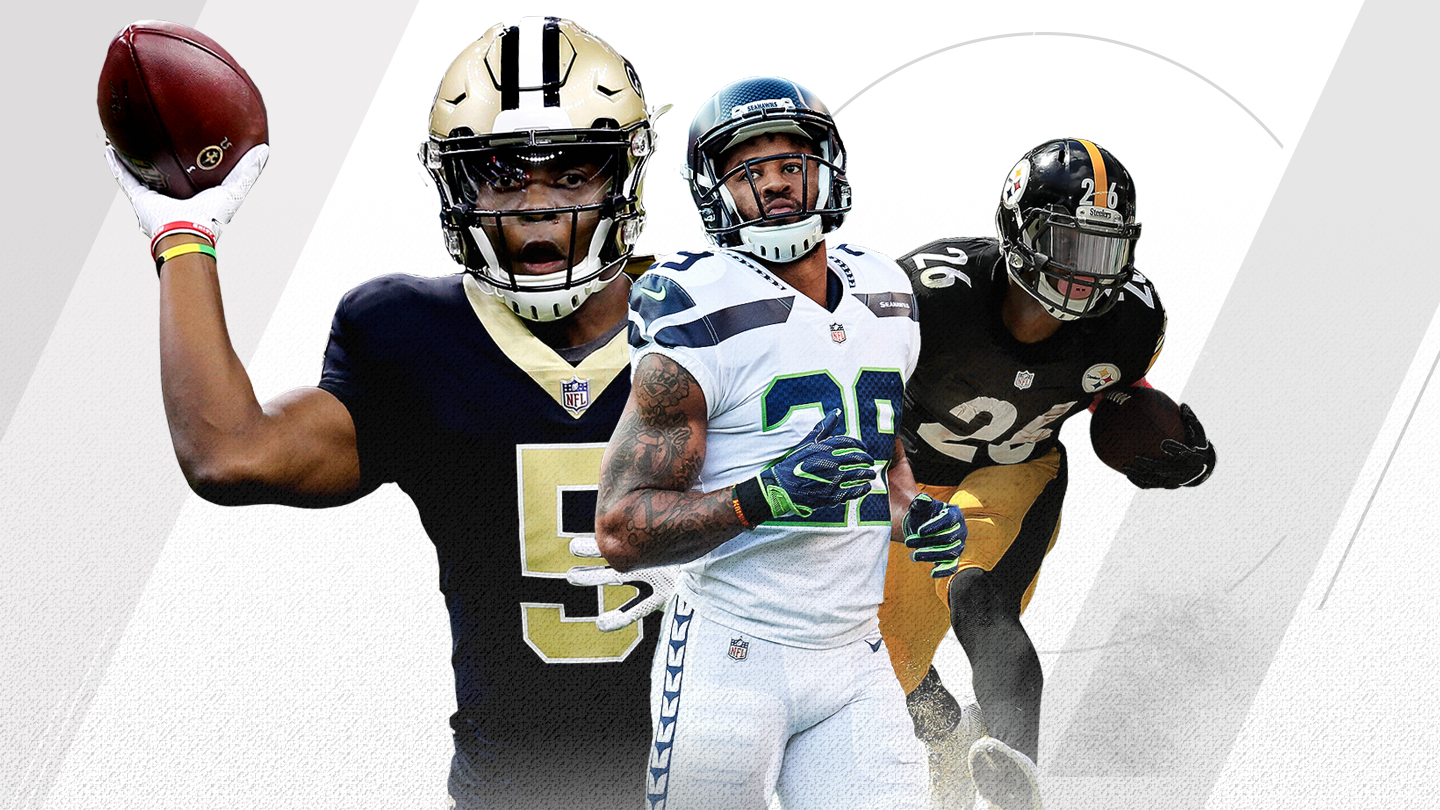 Here's what to know:
• Live tracker: Every notable deal »
• Barnwell's grades: Tracking big moves »
• Winners and losers from free agency »
• Picking underrated, overrated signings »
• Ranking the top 100 NFL free agents »
More coverage » | Back to NFL »
Now the Steelers hope a two-position player can satisfy both spots. Signing Barron, a 230-pound hybrid, gives the Steelers an every-down option. He can play in the box or in the dime spot on third downs, thus making Burnett's contract expendable.
Barron entered the league as a safety and top-10 overall pick in 2012. The Rams moved him to the inside a few years back when Alec Ogletree went down with an injury.
Though Barron was affordable after taking a pay cut and getting released in back-to-back years, he has street cred after seven years as a full-time starter.
"I feel a lot of coaches and a lot of players have respect for me in this league, and they don't feel they can just run at me like that," said Barron about life as an undersized inside linebacker. "If a guy is a smaller linebacker, he has to be tough, he has to be physical, he has to be strong. He also has to be smart. … You've just got to know how to use your body. If you're a smaller guy and you've got a 300-pound linebacker coming at you, you probably have to use your leverage or you're going to use your speed. You're probably not going to overpower them."
Barron was eager for the chance to play with a coach like Mike Tomlin, who's known to be blunt and honest with his players. And since the Steelers entered March with nearly $20 million in cap space — a lot for them — getting Barron after two bigger signings earlier in the week was possible.
Now it's time for rare money spent to improve three major areas of need.