ARLINGTON, Texas — As Jerry Jones walked over to Jeffrey Lurie before Sunday's game at AT&T Stadium, the Philadelphia owner had a message for his Dallas Cowboys counterpart:
"That looks like a walk of a man looking at a Super Bowl," Lurie told Jones.
About four hours later, the Cowboys won their fifth consecutive game and inched closer to sealing the NFC East for the second time in three seasons by beating the Eagles 29-23 in overtime.
At 8-5, the Cowboys can clinch the division with a victory next week against the Indianapolis Colts. The five-game winning streak is the longest currently in the NFL. They beat the New Orleans Saints two weeks ago. The Los Angeles Rams appear human after their loss Sunday to the Chicago Bears.
Super Bowl? Cowboys? Why not?
Truth be told, the Cowboys never should have gone to overtime to beat Philadelphia. Not when they gained 576 yards, ran 93 plays and held the ball for 45 minutes, 33 seconds. Not when the defense allowed just one third-down conversion.
But that's what happens when you turn the ball over and commit 11 penalties.
Sometimes, how a team wins a game, like the Cowboys did Sunday after Philadelphia tied the score three times in the fourth quarter, can carry it.
"At no point did our guys blink," coach Jason Garrett said. "They just kept playing, kept fighting, kept scratching, kept clawing. They play with a relentless spirit and it's inspirational to me to be around these guys, how they work and how they play."
Mr. Overtime
Dak Prescott ended regulation on his back on consecutive plays. Chances of trying a game-winning field goal were thwarted when Joe Looney's second-down snap was low and when Fletcher Cox and Michael Bennett sacked him for a 9-yard loss on third down.
As Prescott went out for overtime, backup quarterback Cooper Rush said, "Don't blink. You're the best at it."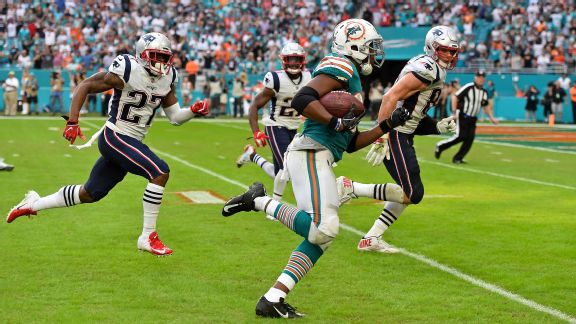 • How the Miami Miracle stunned the Pats
• Why was Gronk on field for last play?
• What Cousins' first 12 games tell us
• Moore is go-to Seahawks receiver
Prescott completed all five of his passes for 58 yards, including his 15-yard winner to Amari Cooper with 1:55 to play. After committing three turnovers in the first three quarters, Prescott was nearly flawless in the fourth quarter and overtime, throwing for 243 yards and three touchdowns. He had not had a three-touchdown game this season. He had not passed for more 243 yards in seven different games.
"Honestly, I don't know if there's one word that sums up all of the emotions that I felt tonight and all the emotions that overcame me at the end of the game," said Prescott, who had a career-high 455 yards. "Excited, for one. Thankful for this team we have."
Big decision
The last time the Cowboys went to overtime, they lost to the Houston Texans in Week 5. On that night, Garrett opted not to go for it on fourth-and-1 from the Houston 42, punting instead. The Cowboys never got the ball back and lost on a field goal, 19-16.
Against the Eagles, the Cowboys faced fourth-and-1 from the Philadelphia 19 with 4:01 to play in overtime. He could have attempted a field goal but opted to rely on his offense, even with Pro Bowl right guard Zack Martin out with a knee injury.
"If you watch the game and you feel the game, they dictate a lot of decisions," Garrett said. "I don't want to dredge up Houston but I think we stopped them nine straight times in Houston and we didn't block them real well in Houston. … In this game, I think we had over 500 yards of offense and we're driving the ball and had the ball for 45-plus minutes. It's nice sometimes with the analytics guys, they sit up in a vacuum and say, 'You should go for this. You shouldn't go for it.' But ultimately decisions are made by guys who are seeing the game and feeling the game and they're executed by men playing the game."
Ezekiel Elliott picked up a yard, and three plays later Cooper had the winning touchdown catch.
The record kick
You could see it in Brett Maher's body language that he slightly sliced his 45-yard field goal attempt in the second quarter. It was his fifth miss of the season and ended another fruitless red zone drive.
"I did the best I could to try and flush that one away," Maher said.
With 1 second left in the first half, Garrett could have opted for a Hail Mary to close the half, but he looked at Maher.
"He said, 'Give me a shot here,'" Garrett said. "He had a great look about him. He had a great look in his eye. So we said, 'Hell, yeah, let's give him a shot.'"
Maher responded with a franchise-record 62-yard field goal that gave the Cowboys a 6-0 lead. In NFL history, only six other field goals have been longer.
Quiet man
In the first three quarters, Cooper was held in check, with just three catches for 54 yards going against a Philadelphia secondary that was ravaged by injury.
In the fourth quarter and overtime, he had seven catches for 163 yards and three touchdowns.
"I feel like that's who I am," Cooper said. "I feel like I can make those plays to help my team win. I did it in college a lot. In Oakland, I did it sometimes."
Over his past three games, Cooper has touchdowns of 40, 90, 28, 75 and 15 yards. In six games with the Cowboys, he has 40 receptions for 642 yards and six touchdowns. His 217 yards Sunday were the most in a single game by a receiver this season in the NFL. He and Michael Thomas are the only receivers to have multiple games with at least 180 receiving yards.
"I was almost astonished we were able to get that trade," Prescott said. "[I thought] if we are getting a trade like that, 'What's wrong?' Then to get him and see everything play out the way it is, we are very fortunate."